Marstons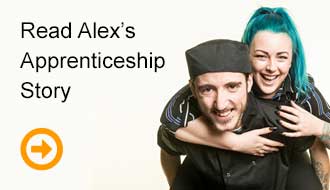 Marston's is one of the UK's largest and most successful pub chains and we are now on the lookout for apprentices to grow and develop with us.
From cosy locals to bustling bars, our pubs serve up an award winning selection of pub classics and innovative new dishes to make sure that every visit is a fantastic experience for our customers. The same goes for our people and as one of our apprentices, you'll find a premium blend of support, recognised qualifications and career progression.
Named Marco Employer of the Year 2018 for the West Midlands National Apprenticeship Awards, Marston's have truly invested in apprenticeships, providing a range of opportunities within hospitality, engineering and logistics. Apprenticeships help create industry skilled specialist for the future and with over 500 apprentices already on board, Marston's are excited to see what the future holds and will continue to work closely with schools, colleges and youth groups to ensure people understand the value of apprenticeship and the great opportunities at Marston's.
What benefits do you offer apprentices?
Recognising and rewarding hard work and commitment is really important to us, so we offer a wide range of benefits and rewards to our pub team members. As you'd expect from a name like Marston's, the rewards and benefits are competitive to say the least, but perhaps more importantly there is ample scope and opportunity to make your mark, plus the genuine prospect of you running your own pub sooner rather than later.